Julia Salnikova and the art of design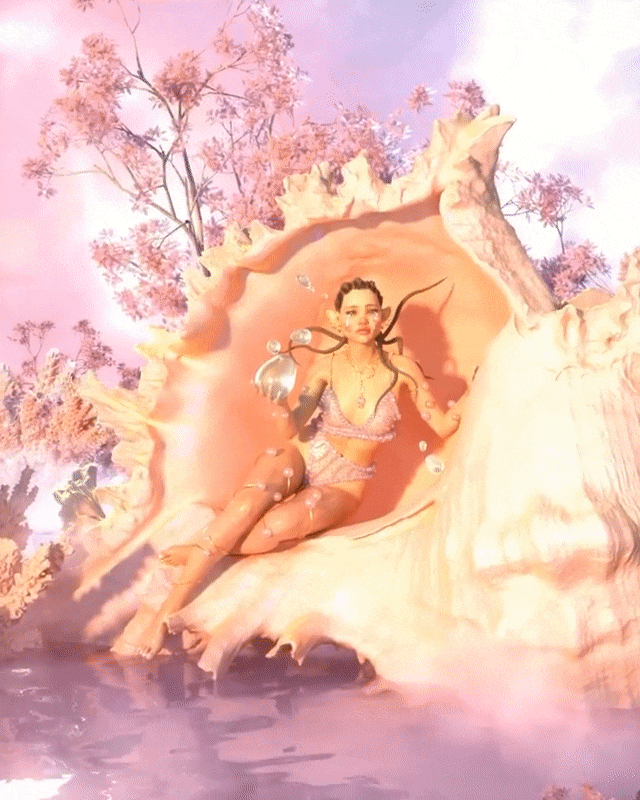 Animation for Rumfoords, Julia Salnikova, 2021
Subtle, evocative and beautiful: Julia Salnikova's figures combine the maturity of high fashion photographers with the limitless scope of 3D renderings. A set designer turned 3D artist, Salnikova is an exciting and fast-growing artist based in Moscow. In an interview for Rumfoords earlier this year, Salnikova opened up about her artistic process, her inspirations and her plans for the future.
Salnikova began her 3D art journey in her last year of university; "stumbling" across some digital art on Instagram, it was "so fascinating that [she was] inspired to start dabbling herself." Learning 3D software is akin to "rocket science" but she maintained practice and became more fashion-oriented as she progressed - beginning to offer this as a "digital alternative" to photographers she worked with.
Portraiture is a recent endeavour: "I got into creating portraits during the lockdown. All the photo studios were closed, and some photo shoots had to be cancelled…. I decided to replace real models with digital ones." She describes the process of creating avatars as "therapeutic", akin to a complex "sims game": "Faces are fascinating. You can get so many variations by just slightly changing some of the features and it's very entertaining. One of my favourite parts is doing their makeup when the avatar is done." The act of creating an individual figure gives Salnikova complete control over the scene whilst still remaining anonymous; the invisible hand of the artist. When undertaking self-portraits, she depicts the process as "always tricky" because "your perception of yourself might be different from reality" - even the mirror doesn't depict a true likeness because "the image is reversed." Something unique about her 2020 self-portrait is the addition of skin texture and freckles: pores are visible on the face, and she has a number of freckles across her hands and neck. This addition of small 'imperfections' only serves to make the figure more human, bridging the gap between digital and real.
untitled, Julia Salnikova, 2020
Self-portrait, Julia Salnikova, 2020
Lost Files, Julia Salnikova, 2020
Considering the events of this last year, it's refreshing to hear of someone who managed to create something beautiful within such chaos. Salnikova's transition from physical set design into rendering adds a unique edge to her work; the images are well-composed often with intricate backgrounds, not so different from real-life - "most of my environments aren't too far from reality." Lost Files is a bridge between reality and cyberspace: a recognisable human face, yet melted and becoming one with the background in ways impossible in reality. The title invites thought as to whether humans can be 'lost files', the implications of corrupted data and how this could affect our experiences of the world around us. Salnikova "does not consider these characters human", instead of being a "fantasy" upon which to create alien and fantastical life forms. Recognisable objects of everyday life become enmeshed within a paradigm of technology and fantasy. Her art offers a verisimilitude of our own world, an uncanny valley that is both recognisable and alien to us.
Animation for Hair Candy, Julia Salnikova, 2021
As a set designer, Salnikova's art is not just focussed on one figure: the digital set is often intricate and complementing, adding atmosphere and drama where appropriate. The medium allows for far greater experimentation than in real life, skipping past budgets and laws of nature: "with 3D your possibilities are endless and I can't imagine not having it as an option now." She draws inspiration for her digital sets from many areas - for Pearl, she cites sakura trees and Botticelli as muses. Her work is the intersection between nature and technology, with water often acting as the medium to work this: "Water is just one of those things you never get bored of. I like seeing how it reflects the environment, giving the scene a new narrative and separating the space from this world." Water forms the basis of Pearl, both through its physical presence and the use of shells and aquatic life forms: the figure has mermaid-esque features with the shell's pearls wrapped around her legs. Water is the life force, underpinning Pearl as well as much of her other works.
Collaboration with Rico Nasty and Mahalia, Julia Salnikova, 2021
This year, Salnikova has already completed a number of high-profile collaborations - including creating visuals for Rico Nasty and Mahalia's new music video, Pomiatoe and Hair Candy NZ. Her beautiful figures combined with her previous experience in set design situate her in the perfect place to create visuals for brands, adapting to individual needs whilst maintaining her own unique style. Still close to the beginning of her artistic journey, Julia Salnikova is one to watch out for in 2021 and beyond.
Follow Elliot on his Instagram @el.iott