10 Best-Selling NFT Artists
Battle of the WarNymphs, Grimes
NFTs are a hot topic in the art world and beyond, and in the first couple of months of 2021 people bought more than $300 million worth of them. As the year continues, more and more people are wondering, what exactly NFTs are and how they work. Tech tycoons, musicians, and fashion designers have joined the party as well. But who are the artists behind these blockchain-minted artworks with unique encryption codes that are currently turning the art world on its head? Here are 10 NFT artists whose work is among the most successful.


10 Grimes
Rokoko Monolith, Grimes
Grimes is a Canadian critically-acclaimed alt-pop star and multimedia artist. The 33-year-old has recently started making NFTs, and the outcome has been particularly lucrative, having sold more than a thousand artworks for an average price of $7,983.33 each.
For Grimes, the jump to creating NFT artwork does not seem so sudden. Before starting her music career in university, she was studying neuroscience and philosophy. She is also a music producer, has an "e-girl" aesthetic, is interested in artificial intelligence and is known to be an avid gamer. Her music has been described as "dark and ethereal, catchy and strange," and her art is similar in essence. Think pastel colours, edgy themes, cherubs, and butterflies, and you'll be imagining something quite similar to the work Grimes has begun producing.




9 3lau
Everything, 3lau
American DJ and fintech aficionado Justin Blau, known as 3lau, similarly began as a musician back in 2011. Blau was originally studying finance but quit to pursue music. He has said that his main goal isn't fame, but helping others, and constantly donates parts of what he makes to charities. Later on, he decided to act on his early interest in crypto and became an early pioneer, launching the first block-chain powered music festival three years ago. In February this year, he sold the world's first digital tokenised album and after Covid disrupted planned music tours, he delved deeper into crypto art and began releasing most of his music as NFTs. According to the pseudonymous WhaleShark, who is among the largest NFT collectors out there, Blau's commercial and technical smarts combined with his abilities as an artist make him the "gold standard". NFTs do exist somewhere between the realms of business, technology and culture, after all.
Puzzles, Slimesunday
Mike Parisella, an American digital collage artist, is behind the moniker Slimesunday. His collages explore the bizarre and erotic, sometimes resulting in his work being taken down from Instagram despite his efforts to camouflage the nudity with everyday objects, natural imagery, and textural elements. Magazines like Playboy have featured his work and he has worked for various Grammy-nominated artists. Additionally, he also works with animation, as seen in "The Process", his collaboration with 3lau which depicts Parisella's collage-making process set to 3lau's music.
FLWRS, Slimesunday
Music was the origin of Parisella's journey into the NFT scene, specifically listening to Skrillex's "First of the Year (Equinox)" and being fascinated by Skrillex's use of computer software. Having satisfied his curiosity, he eventually moved on to making visual art. The artworks he creates are bold but wily in their often-times elaborate manoeuvres around Instagram's censors. The colour is oversaturated, like images in magazines from the late 1940s and 1950s. Parisella's persistence and sheer creativity in creating these pieces as well as their visually provoking style makes the unapologetic nature of his work clear.
Hope, Xcopy
Xcopy is an experienced digital artist and long time crypto enthusiast based in London whose work, distorted visual loops created by using a high frame rate and a cartoony style, explores themes of death, dystopia, and apathy. Xcopy's style and the animation transform these themes into a more palatable form. These elements plus linework that faintly resembles childish scrawling and the use of selective colour gives this piece a more playful spin and contrasts with the skull figure and the colour black's symbolism of hopelessness and despair.
6 Hackatao
Kim Jong Un "Dead and Alive" , Hackatao
Italian artists Sergio Scalet and Nadia Squarci are the duo behind Hackatao, "hack" stands for discovering what's initially hidden from view and "tao'' stands for the creative balance of the Yin and Yang. Their name's meaning has evidently been pondered over, and their pieces are equally as thoughtful, tackling issues such as society, environment, humanity, and crypto while referencing art history, paganism, alchemy, and psychology. Scalet and Squarci used to use traditional art supplies such as ink and acrylics but found digital crypto art to be much faster. According to Scalet, crypto art has arrived at the right moment, a moment when physical and digital are overlapping rather than one replacing the other.
Eradigirl, Hackatao
Asked in an interview what movie, artwork, or philosophical movement Hackatao resembles, Squarci said that that would be Wes Anderson's "The Grand Budapest Hotel" for her, "in that defined and clean geometry of the shapes, in that perfect balance, carefully thought in every detail and in the choice of the colour palette". This can be seen in most of their work and in one of their highest-selling piece "Kim Jong Un- 'Dead or Alive'", every detail hints at the central idea of the work, a duality of being, as the infamous North Korean leader is animated to move between flesh and skeleton.
5 Maddogjones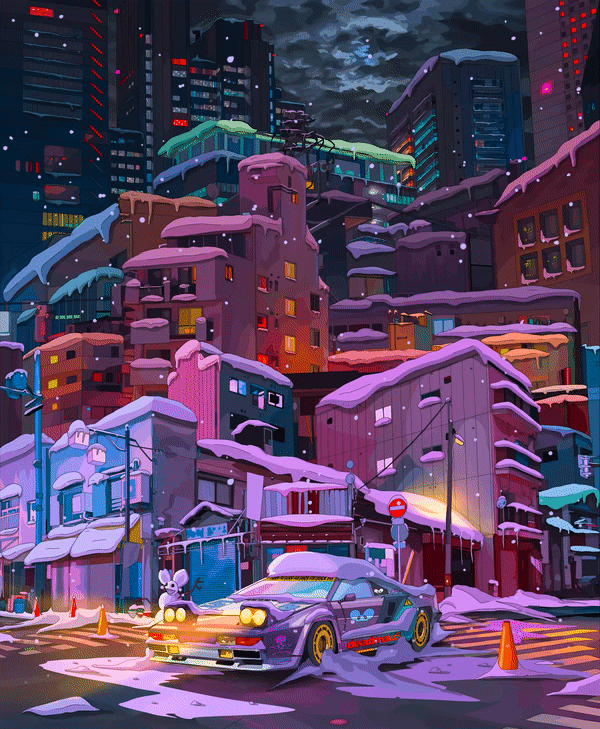 Block Heater, Maddogjones
Toronto-based Micah Dowbak, also known as Mad Dog Jones, is a multidisciplinary artist who stands out for his creative experimentations with all sorts of modern technologies in order to make his artworks. His work, which can be characterised as cyberpunk and dystopian, explores themes of beauty, nature, and technology. Citrus and neon tones usually associated with technology are given a softer glow to draw a parallel between natural landscapes and metropolitan landscapes, suggesting that they are not so dissimilar as one would think, and are therefore not opposites.
4 Pak


Prisoner's Dilemma, Pak
The artist known as Pak has been creating digital work for two decades but has kept their identity a secret, and it isn't clear whether they are an individual or a collective. The mystery of their identity has intrigued many in the crypto community, and he has been sometimes labelled as the "Satoshi of crypto art," referencing Satoshi Nakamoto, the unknown creator of Bitcoin. "When I see a name of an artist, I see a face, not the work- so I'm trying to separate the two," Pak said in an interview, "I like being grey." Whoever they are, their work, which is largely made up of monochromatic designs featuring geometric shapes, has been recognised by some of the biggest names in the tech business, one example is Elon Musk. Pak has created Archillect back in 2014, an artificial-intelligence algorithm that searches social-media feeds for images it deems popular and posts them every ten minutes or so on its own feed. More recently, in April 2021, one of Pak's NFTs was also gifted to Sotheby's, this was the fine art auction house's first NFT sale.
3 FEWOCiOUS
THE EVERLASTING BEAUTIFUL, FEWOCIOUS
Writing is not FEWOCiOUS's strong point, so they turned to art to make sense of tough home life and loneliness in a new school. Digital art meant they could save on art supplies and they figured that "If I'm painting, I don't want to wait for this paint to dry. I'm sad. I want to just put it all out there." They weren't sure about getting into crypto art at first, assuming there would be a catch. Their grandparents, with whom they were living with at the time, warned them against it. But FEWOCiOUS persisted and now the 18-year-old crypto surrealist's pieces sell for around $5,812.16 each and they're one of the biggest names in the community.
They have said that they paint what they feel, sometimes making up elaborate stories about their pieces beforehand. Their artwork is emotionally raw in its technique and subject matter, bringing it all together with a vibrant frenzy of colour.
2 Trevor Jones
ETHBOY, Trevor Jonesart
Canadian Trevor Jones started out while in his 30s as a painter and it was his fascination with art and tech that led him to painting QR codes and eventually crypto art. Since then, he's used tools ranging from augmented reality (AR) to animation and collaborated with other top crypto artists like Argentine comic book designer turned NFT creator José Delbo. A collaboration with rapper and filmmaker Ice Cube is in the works. Recently, many of his pieces are literally inspired by Bitcoin. One such artwork is titled "Bitcoin Angel," which depicts two marble statues in front of a gold Bitcoin.
Jones has written that he takes inspiration from his father, who was a heavy-duty mechanic, and applies a utilitarian attitude to his artwork by asking himself constantly: how does a painting work and how can it be made to work better? He still considers himself a traditional artist, painting pieces and then animating them. His classical training is evident in the traditional painterly look of his more abstract paintings.
1 beeple






Crossroad, Beeple
Everywhere you look, the very top artist is beeple, no question. American graphic designer Mike Winkelmann has garnered an impressive resume over the years with his extensive range of skills. He's been involved in the making of short films, virtual and augmented reality, and visuals for Justin Bieber, One Director, Katy Perry, and Nicki Minaj concerts. When he entered the cryptoart scene in October, he was an instant hit, and his sale of $3.5 million in NFT art broke several digital records in the course of 48 hours. The sale of his "Everydays" project skyrocketed Winkelmann to become the third-most-expensive of all living artists, with only Jeff Koons and David Hockney preceding him. He is largely responsible for bringing NFTs to the mainstream media and auction houses' radar.
Beeple decided to start making cryptoart after realising that there was a decent chunk of money to be made from them and marveling at the sophistication of the market. All in all, it seemed like a fantastic opportunity, a chance to finally use that computer science degree he'd earned two decades prior. Beeple said that "When you factor in the programmability of these things, then it's just like, sweet baby Jesus. I have years of ideas of shit." And so he has. Highly realistic yet absurd ideas, some veering into the grotesque. At times they merge several pop culture references with bizarre results, like a bunny-Buzz Lightyear hybrid riding Jeff Koons's dog balloon.